Given how ubiquitous this generation of Impala used to be, you'd think they'd be easier to find on the street these days; in fact, the 1965 full-sized Chevrolet still holds the all-time American sales record for a single car model. But they're hard to find, and thus it's been months since our last DOTS Impala. Unlike that one, however, this Impala is in very nice shape (as was the '65 Super Sport we saw even more months back).


This car lives on a quiet side street in Alameda's wealthy East End, which means it's less likely to be nailed by drunks in '85 J2000s or stolen by hoodlums jacked up on goofballs than a car elsewhere on the island.


G/O Media may get a commission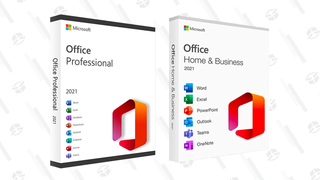 89% off
Microsoft Office Professional 2021 Lifetime License

Here's proof that this car has lived in the East Bay for most of its life: a Charlie Finley-era "Swingin' A's" decal on the front bumper, dating back to the late 60s or early 70s. What incredibly toxic substances were used in those old stickers to make them last so long?



Does the original 283 still live under this car's hood, or did a Mr. Goodwrench 350 get swapped in at some point? Or is it possible the owner is a hoon who's installed a wild-ass 454- ideally with low-profile blower- in order to achieve Super Sleeper Potential?



This car makes me miss my old '65. Mine started life as an aqua-blue 4-door as well, though it was fully primered by the time I got my grimy hands on it.