After being somewhat unappreciated in the collector car world for decades Alfa Romeo Sprint Speciales have skyrocketed in value over the past few years. One look at this beautiful red example currently on Ebay and it isn't hard to see why.
Alfa Sprint Speciales have always been best known for their looks. The 1300cc engine this Giulietta Sprint Speciale came with produced less than 120 horsepower when new (110, 112, or 116 depending on what source you believe). Although any of those were a respectable figure at the time, the Sprint Speciales were never thought of as particularly quick cars. This is likely what kept their prices affordable until recently.
These days not many people would call the price of a Sprint Speciale affordable, at least not compared to a few years ago. Earlier this year a beautiful blue 1961 S.S. sold at auction for $154,000. That makes the current high bid of $85,000 (oddly enough the exact amount this car has been advertised for recently) for the red car seen here seem a lot more reasonable.
Luckily for those of us who don't have the money to spend on a vintage Giulietta Sprint Speciale it doesn't cost anything to stare.
[Ebay or go here if the listing disappears]
G/O Media may get a commission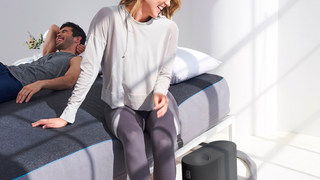 Eight Sleep Pod Cover