The 1957 Ferrari 250 Testa Rossa is unarguably one of the most beautiful and successfully designed race cars ever. RM Auctions has one. It's perfect and expected to destroy the $10,894,400 record set last year.
G/O Media may get a commission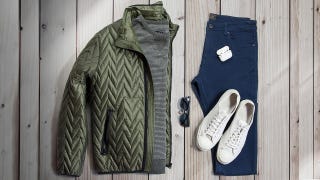 60% off
Jachs NY Fall Sale 60% Off
This particular 250 Testa Rossa, number 0714TR, was successfully raced during the late 50's and early sixties in places like Brazil, Cuba, and Portugal and after an active career now exists in this restored state, wearing it's factory black and red livery. Every aspect of the car is factory perfect right down to the crackle finish on the valve covers of the snarling V12. Only 22 of these pontoon fender Testa Rossas were ever built, and after the 250 GTO, the 250 TRs are considered the most desirable Ferrari's in history. Current private valuations of lesser examples of these cars hover around $8 million, and if the auction price rises to that level it enters the hunt to become the most expensive car ever sold at auction. We couldn't think of a more worthy titleholder.
LEGENDARY FERRARI 'PONTOON-FENDER' TESTA ROSSA EXPECTED TO BREAK WORLD AUCTION RECORD AT FERRARI LEGGENDA E PASSIONE
RM Auctions, in association with Sotheby's, announce the most significant and desirable Ferrari to be offered on the world's auction stage – the legendary 1957 Ferrari 250 Testa Rossa (TR). Expected to set a new world record* for a vintage motor car sold at auction, this exciting car will be offered at RM Auctions' exclusive 'Ferrari Leggenda e Passione' event, May 17, 2009 in Maranello, Italy.

LONDON, England (February 5, 2009) – RM Auctions, in association with Sotheby's, will present one of the most historically significant and valuable Ferrari racing cars ever offered at auction, the legendary 1957 Ferrari 250 TR (chassis no. 0714TR), when the famed Ferrari Leggenda e Passione event returns to Maranello, May 17, 2009. Held during the final stretch of the famous Mille Miglia retrospective, the exclusive annual event will offer an unprecedented collection of historic Ferraris for auction.

Considered one of the most alluring, competitive and iconic of all Ferrari racing cars, the beautiful and immediately recognizable Scaglietti-designed, 'pontoon-fender' 250 TR was produced from 1957 to 1958 during which only 22 were constructed. The Ferrari 250 TRs entered 19 international championship races from 1958 through 1961 emerging with 10 victories and earning them legendary status among discerning collectors, as well as the honor of being one of the most desirable and competitive racing Ferraris ever built.
"This legendary 250 TR is one of the most exciting motor cars ever to be presented in auction history," said Max Girardo, Managing Director of RM Europe.

"The Ferrari Leggenda e Passione event, now in its third year, is firmly established as the place to sell important road and race going Ferraris, and we are delighted to present this stunning 250 TR at its Maranello birthplace," he added.

0714TR was extensively campaigned in its day with significant finishes at the world's most important racing events and is now being offered at auction for the first time. The car is resplendent in its period race-correct black livery and red nose.

In December 1957, this car was delivered to its first owner, racing driver and future coachbuilder, Piero Drogo in Modena, Italy. Drogo debuted the car as a privateer in the celebrated 1000 km Buenos Aires in January 1958 with a respectable fourth place finish competing with such legendary drivers as Phil Hill, Peter Collins, Wolfgang von Trips and Olivier Gendebien. Following entries in the Grand Prix of Cuba and Portugal, the car was sold by American Ferrari agent Luigi Chinetti to Texas rancher and entrepreneur Alan Connell whose competitive driving skills and affluence afforded him several wins on the 1959 North American racing circuit. 0714TR continued its prowess on the track with subsequent owners and competed in its last professional race in June 1963 at the Elkhart Lake 500.

The Ferrari 250 TR has become an enduring and exceedingly valuable classic whose soaring lines and sculptural elegance give it a sense of speed even when standing still. The legendary s/n 0714TR is by far the most campaigned of the 250TR cliente series cars with a fascinating ownership and racing history, establishing its rarified place in the collector world as one of the most beautiful and valuable Ferraris ever offered in auction history.

All cars presented at the Ferrari Leggenda e Passione event will be certified by Ferrari Classiche.

*Note to Editors: The current world record for the most expensive vintage motor car ever to be sold at auction is held by RM Auctions, in association with Sotheby's, for a 1961 Ferrari 250 GT SWB California Spyder (s/n 2377GT) which sold for $10,894,400 USD (€7,040,000, £5,598,208 GBP). This current world record was set at Ferrari Leggenda e Passione, in Maranello, Italy on May 18, 2008.
[Source: RM Auctions]