Welcome to Down On The Street, where we admire old vehicles found parked on the streets of the Island That Rust Forgot: Alameda, California. Here's a 58-year-old car that's on just its second owner.
I spotted this very clean '51 Dodge Wayfarer parked in front of the most overwhelmingly tiki-fied space in the entire world: the Forbidden Island Tiki Bar. Created using the decor salvaged from a half-dozen or so defunct tiki bars from around the country, this joint- which was a notorious liver-killing dive called the Lincoln's Address in the old days- is now concentrated essence of tiki.


The bar was sponsoring a little car show scheduled for later in the day (more on that later), and this car's owner decided to show up early and beat the rush on multi-umbrella-equipped rum drinks. He bought the car in an estate sale when the original purchaser died. Other than a new coat of blue paint and a few mild custom touches, he's left it dead stock. The interior is all original and looks exceptionally good, and the old flathead six just keeps purring along. The owner has painted "Mary" on the door, in honor of his '51 Dodge-driving grandmother.


G/O Media may get a commission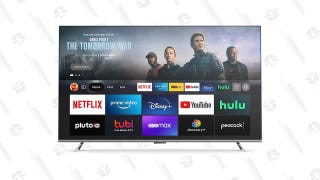 Save 46%
Fire TV 55" Omni Series 4K UHD Smart TV
The Wayfarer was the base trim level for 1951, and the two-door sedan was the most inexpensive Dodge car in the lineup (though a half-ton '51 Dodge pickup could be purchased for a mere $1,293, or just under 11 grand in 2009 dollars). The price tag on this machine was $1,738, more than 100 bucks more expensive than the Chevrolet Styleline Deluxe and a staggering $300 more than the '51 Ford Deluxe 2-door sedan, so you were definitely taking a step up the status ladder when you bought the Dodge. Of course, there was always the Plymouth Concord 2-door sedan for just $1,673, for Chrysler devotees not willing to spring for the Dodge.