13-year old motorcycle racer Peter Lenz died Sunday after he fell off his bike and was run over by a 12-year-old motorcyclist at Indianapolis Motor Speedway. He's the youngest competitor to die at the famous racetrack.
Lenz's death was the first of a competitor at the speedway since IndyCar driver Tony Renna was killed in October 2003. It's made all the more tragic that, at 13, he's also the youngest.
A posting on Lenz's Facebook page, signed, "Dad," read:
"Peter passed away early this morning when he was apparently struck by another rider. He passed doing what he loved and had his go fast face on as he pulled onto the track. The world lost one of its brightest lights today."
The crash delayed the United States Grand Prix Racers Union event in which Lenz was to ride, but three races sanctioned by the MotoGP Series started on time.
Lenz, pictured above at Indy Motor Speedway ahead of Sunday's deadly crash, had ridden six years, winning nine national titles, and with a strong YouTube following, appeared to be a rising star in the US GPRU series.
G/O Media may get a commission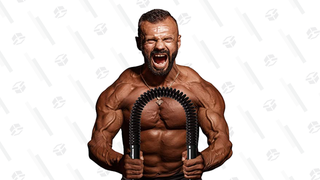 10% off
Zenooze Boa Power Twister
As the series bills itself as a prep series for riders 12 to 18, the mainstream media's already using the fatal accident to fuel debate about how young is too young for racers to be competing inside cars or riding a motorcycle capable of speeds well over 100 miles per hour.
We don't think that's the problem. Instead, our problem is with 12-year-olds and 18-year-olds competing side-by-side. It creates huge disparities in skill, talent and experience that encourage risk-taking by the youngest racers in order to maintain competitiveness. While pushing yourself is good — pushing yourself on a track with lower-skilled and inexperienced drivers and riders is a breeding ground for potential disaster.
Photo Credit: Kevin Vogel via Facebook