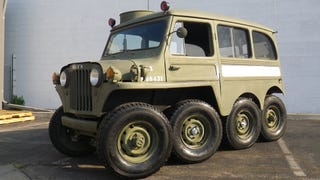 This might be the coolest Jeep ever built. It has eight-wheel-drive, a rear-mounted V8, and of course it has a rifle. Somehow, it is both for sale and startlingly adorable.
Welcome to Down On The Street, where we admire old vehicles found parked on the streets of the Island That Rust Forgot: Alameda, California. How many towns have three Willys Station Wagons parked on the street?
We were poking around Jeepforum.com when we stumbled onto a context-free image of this Jeep Forward Control monster truck. Our brains melted from the awesomeness and we had to know more. Immediately.