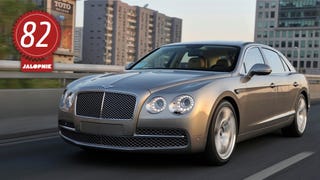 The Continental Flying Spur was a key player in Bentley's Volkswagen Group-led revival, lo this past decade. The Spur's been made-over for 2014. Is the 2014 Bentley Flying Spur the same stout, Anglo-Saxon war wagon it was, or has it become something even more magisterial?
Guns N' Roses frontman Axl Rose owes Bentley Financial thousands for abusing a Continental Flying Spur like it was an Iggy Pop song. Transgressions include exceeding the mileage limit by 43K gouging the bumper, and not paying $74K. [TMZ]
We're guessing a lot of people forked over the extra change for the tweaked Bentley Continental GT Speed, convincing the product planners at the super-luxo marque to drop the same massaged 6.0-Liter W12 into the company's Continental Flying Spur sedan. Called the Continental Flying Spur Speed, the newly found 48…
The fine car fans of the world have snagged some gorgeous looking pictures of what they're claiming is the next refresh of Bentley's Continental GT and the Continental Flying Spur. Although they're not expecting the engines to see an upgrade from the 6.0-liter W12 Twin Turbo powerplants that currently provide the luxe…
We wannabe upper crusty anglophile types are already busy drooling over the allure from the double-decadent Havana coupe. Now Bentley springs this on us? As the revitalized German British marquee nears the brand-imploding 9,000 cars a year threshold, they are going to need new steel to maintain their momentum. Wait,…
We've never stayed at the Fairmont in the City That Works, but we have enjoyed the amenities and excellent cotomer sevis of its San Francisco sister hotel, as opposed to the recent subpar experience we had in Birmingham, AL's Tutwiler. And while the SF house of lodging ranks as one of the finest places we've ever…
Leftlane News reports that German tuning and design shop, Mansory GmbH, is showcasing its take on the Bentley Continental Flying Spur at the SEMA Show. Having already worked its techie magic on the Continental GT, the team has done similarly by its four-door sibling, upclocking the bruiser's W12 to 650hp and pinning…
Why you shouldn t buy this car: Because you don t have enough money.
Exterior Design: ****
The Spur offends finely-honed aesthetic sensibilities in detail only: weirdly-shaped rear three-quarter windows, oddly over-sized taillights, incongruous chrome side window surrounds and deadly dull wheels. The Rolls Royce Phantom is the only place you ll find more automotive charisma, and it…
Let s get this out of the way first: the Bentley Continental Flying Spur is a German car. Quite apart from the fact that the Spur is built on the VW Phaeton platform and assembled at their Dresden factory, there s nothing remotely British about that way this leather-lined leviathan goes about its business. It…