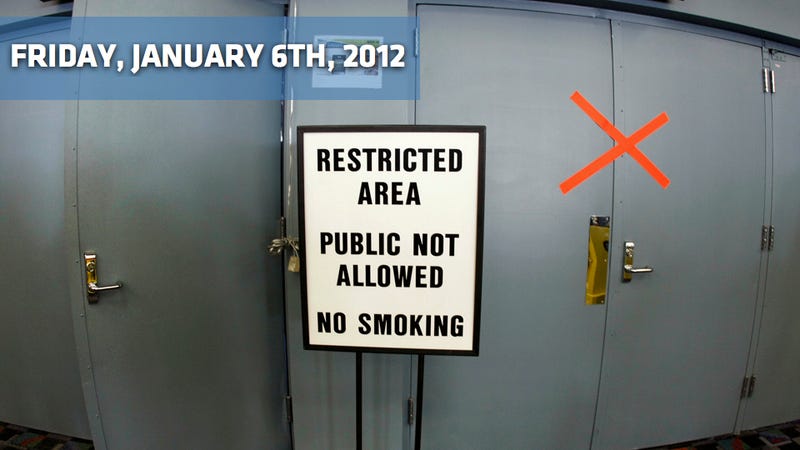 This is the Morning Shift, our one-stop daily roundup of all the auto news that's actually important — all in one place at 9:00 AM. Or, you could spend all day waiting for other sites to parcel it out to you one story at a time. Isn't your time more important?
---
1st Gear: Jalopnik's Your Official Unofficial One-Stop Shop For Detroit Auto Show Coverage
The granddaddy of all auto shows starts — for all intents and purposes — Sunday afternoon. So keep your browsers locked and loaded on our Detroit Auto Show tag page from now through the middle of next week to see every drop of news coming out of the Motor City as we blow the roof off o' Cobo Hall. Sure, it's so cold in the D, but whatevs, how else we supposed to keep peace?
---
2nd Gear: The Detroit Auto Show Will Stay In Detroit Through 2017
Speaking of the Detroit Auto Show, show organizers have inked a deal to keep the North American International Auto Show — otherwise known as the Detroit Auto Show — in the city of Detroit at Cobo Hall through 2017. Because where the hell else were they going to put it? Cleveland?
---
3rd Gear: Diesel-Powered Jeep Grand Cherokee Coming In 2013
Chrysler will add a third shift — approximately 1,100 workers — at the Jefferson North Assembly plant in Detroit next year to allow the automaker to offer a diesel Jeep Grand Cherokee in North America in 2013. The diesel-engined Grand Cherokee's return to the North America market represents the first time we've had an oil-burnin' big Jeep sold here since 2008. All we know is that we salute Jeep for bringin' us more diesel options.
---
4th Gear: McLaren MP4-12C Spider To Get Carbon Fiber Folding Roof
Auto Motor Und Sport (by way of Motor Authority) tells us we should expect McLaren, due to its penchant for carbon fiber, to likely use the composite material for the retractable roof of its upcoming MP4-12C Spider. But, like the system on the 458 Spider the roof on the McLaren MP4-12C Spider will initially flip backwards and then retract vertically into a small recess located between the engine bay and passenger compartment.
---
5th Gear: New Ford Fusion To Be An Evos-lutionary Leap
Ford next week hopes to regain sales momentum with a radically restyled Fusion it plans to unveil at the Detroit Auto Show. Folks in the know (we'll be seeing it ourselves shortly — as we missed the embargoed briefing a couple weeks ago because of a prior commitment) tell the Wall Street Journal the front-end of Ford's redesigned Fusion sedan resembles the company's amazingly attractive Evos concept car. We sure hope this new mix between a Mondeo and a Fusion will be as hot as we're hearing it will be, because — as red-blooded Americans — there's something vaguely insulting knowing that Hyundai and Kia have the best-looking mid-size sedans.