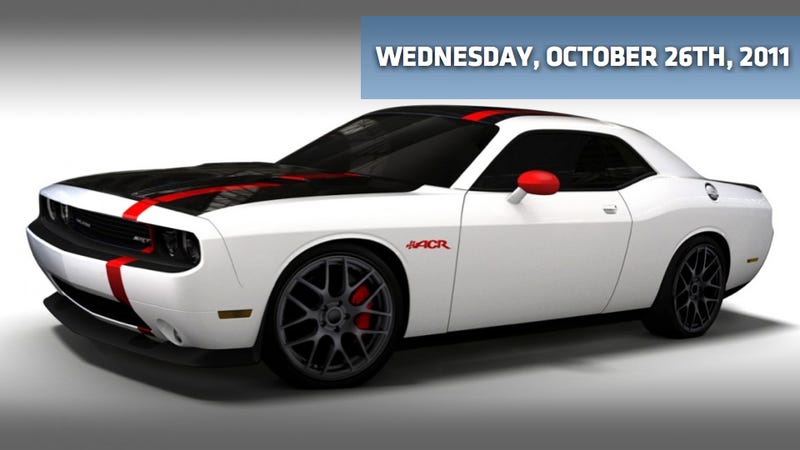 This is the Morning Shift, our one-stop daily roundup of all the auto news that's actually important — all in one place at 9:00 AM. Or, you could spend all day waiting for other sites to parcel it out to you one story at a time. Isn't your time more important?
---
1st Gear: Subaru Gives Subieyota More Power Than Toyobaru
According to Autocar, Subaru tells them the BRZ will have the lowest centre of gravity of any production car when it goes on sale next summer. The BRZ's rear-wheel-drive configuration has meant that Subaru's itty-bitty 2.0-liter Boxer engine can be mounted even lower in the chassis than would normally be permissible in the manufacturer's conventional four-wheel-drive layout. But the big news is that, despite being co-developed with Toyota, power outputs will differ. The Subaru-spec ECU will liberate the BRZ's power to "less than 300 bhp," compared with the FT-86's 200 bhp figure. We'll find out for sure when we see both the Subieyota and Toyobaru unveiled at the Tokyo Motor Show later this year.
---
2nd Gear: 2013 Cobra Jet Details Emerge From Haze Of Smokey Burnout
MustangsDaily tells us that not only is the 2013 Ford Mustang Cobra Jet happening, but Ford will also be adding the Coyote 5.0-liter V8 as an engine option available in either naturally aspirated or supercharged form. Jesse Kershaw of Ford Racing tells them that this powertrain, along with the supercharged 5.4-liter V8 already offered, will allow for drag racers to compete in a wider range of NHRA categories. "The goal with the next gen Cobra Jet is for all engine options to be NHRA Stock Eliminator legal where in 2010 and 2012 we had Super Stock only engine options."
---
3rd Gear: Will Power Suffers Fractured Vertebra
According to the Indianapolis Star, it turns out that IndyCar runner-up Will Power was injured more than we thought in the deadly crash at Las Vegas Motor Speedway that took the life of Dan Wheldon. He's now been diagnosed with a compression fracture of his fourth thoracic vertebra. That's one vertebra off the similar fracture he suffered in the 2009 crash at Infineon Raceway.