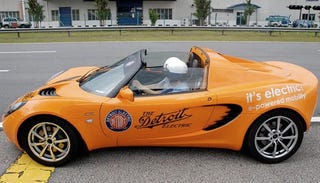 Our favorite Malaysian automotive journalist,
Paul Tan
, has driven Detroit Electric's new battery-powered Lotus Elise. Partnering with Malaysian automaker Proton (the parent company of Lotus), Detroit Electric is attempting to revive itself by electrifying cars like this Lotus Elise and some Proton sedans and hatchbacks. The Detroit Electric Elise sports a 200 HP electric motor and a range of 200 miles from a 6.5 hour charge; in other words, the
Tesla Roadster
, which is also based on the Elise, had better watch its back. The company is quite ambitious, with talk already of distribution strategy and a possible quick-charge infrastructure around Malaysia. In addition to Paul's test drive of the Lotus, he also got to ride shotgun in an electric Proton Persona. Both seemed to have impressed him with their level of development, but read Paul's comments for yourself at
paultan.org
.