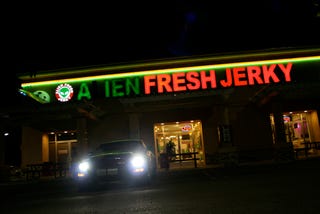 Actually, we realized at some point it was "Alien"
brand
beef jerky, but you know, for like a minute there...we thought we were gonna dig into some extraterrestrial hide. But, we still thought it worthy of a shot. We're almost to Vegas — we'll save any more updates until the morrow.
Location:
Baker, CA
Miles:
187.5 Miles
Drive Time:
5 Hours, 9 Minutes
Follow along at our tag page for our full three-day Shelby GT500KR Road Trip.