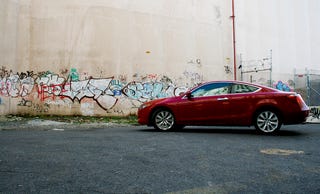 Why you should buy this car:
You've always bought Accords and the 2008 Honda Accord Coupe will merely be the latest. You don't know much about cars but you do know that you don't want to buy American. You fit the above criteria, but despite the physical onset of middle age you think you're too young for a four door. In reality, you're just too single. You're on the fast track to middle management and you want people to know it.

Why you shouldn't buy this car:
You know that driving fast isn't just about power. You want to buy American and that whole "Made in Ohio" versus "Assembled In Ohio" thing confuses you. You want a simple, well-engineered, economical, practical car. You work in any design-related field.