Welcome to Must Read, where we single out the best stories from around the automotive universe and beyond. Today, we have reports from Autoweek, Bloomberg Businessweek and Speedhunters.
From Murilee Martin, a story that neglected car – a Toyota Tercel Wagon. It goes from happy, to happier, to sad. But it's not all sad because it had a shark-fin on its roof.
The blue Tercel with the tiger-skin seats delivered all the stuff to build a storage shed with slab floor, a redwood deck in the back yard, an anti-earthquake shear wall, and some other projects. I installed a halfway-decent stereo and toyed with the idea of keeping the car… but then I picked up an ex-San Joaquin County Sheriff's P71 Crown Victoria (complete with urine test kits and evidence Polaroids) and I had no room in my crowded urban driveway for it. A childhood friend who lived down the street had a kid who was about to start first grade. The friend's previous car had just died after a downward spiral of deferred maintenance, and she needed something child-friendly and – ideally – neglect-proof. So, I sold her the Tercel for a very reasonable price.
GM has that very sticky situation of bankruptcy and how it affects what its liable for these days. Some excellent points that show how complicated the legal matter is and the even stickier PR problem looming.
When it comes to its ignition-switch debacle, General Motors wants to play it both ways. "Our full efforts are on our customers' safety and fixing their vehicles as quickly as we can," says spokesman Kevin Kelly. But that's not quite accurate. Some of the company's efforts—those undertaken by its well-paid lawyers—are being devoted to using the bankruptcy laws to erect a liability shield protecting GM from claims by those very customers.
G/O Media may get a commission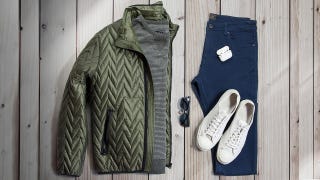 60% off
Jachs NY Fall Sale 60% Off
The headline really sums this one up.
I've never been to Pikes Peak, but it doesn't take much to realise that the people who choose to race cars up the imposing climb are all a little bit insane. Insane in a good way of course, but perhaps even more so when the road was still not fully surfaced. Nobuhiro 'Monster' Tajima definitely falls into this category.

Not only was Monster the first Japanese driver to win the event overall, but he did so in a car that he designed and built himself. These were the thoughts that were going through my head as I watched the shutters to Tajima's private collection slowly rise up before my eyes. There is an insane amount of goodness stored in the garages located right behind the massive Monster Sport workshop, but today it was his 1995 Suzuki Escudo I would be spending some quality time with.
Photo: Wikimedia Commons