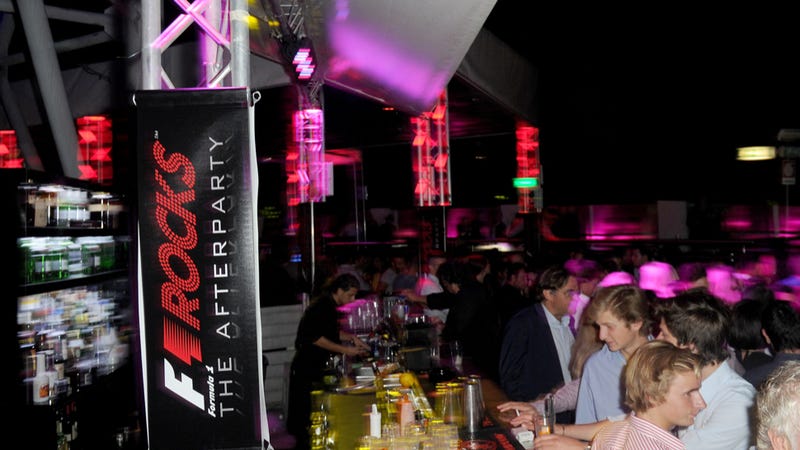 This weekend is the venerated Kentucky Derby, in which three-year old horses gallop about the track and people drink mint juleps and wear silly hats.
I want a silly hat.
But I can't have a silly hat, for I, your noble scribe, am here scribbling away for all you weekend Jalops. Which I actually like better than any silly hat party.
Speaking of silly hat parties, though, us lovers of all that have wheels over legs also love a good party. That begs the question, then.
What is the best party in all of motorsports?
Is it the infield at the Indy 500? The 24 Hours of Le Mans? Could it be the one that Raphael almost died at because he goes around stealing other people's drinks? Or maybe just some LeMons instead?
F1 always has some insane parties, like the one above. But my vote is with the Bathurst 1000. The greatest race in all of Australia, it features V8 Supercars storming around the track, and thirsty Ozzies storming all over the grounds.
It's such a lively party, in fact, that in 2009 authorities had to limit the amount of alcohol consumed. To only 24 cans of beer, per day, per person. Or, if you were feeling extra fancy, only four liters of wine, per day, per person. Which is fun, I suppose. Rumors swirled at the time that fans were heading up to the track ahead of the race, burying beer in the dirt, such was the thirst of the fans.
But the Bathurst is just full of hooligans. Maybe you prefer the splendor of the Monaco GP, with all of the yachts and official festivities? You tell us!
Photo credit Getty Images