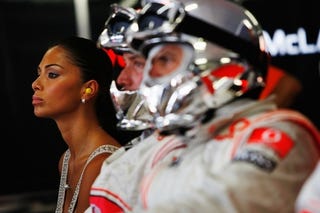 Vapid celebrity news, dear readers: McLaren's 2008 Formula One champion Lewis Hamilton has broken up with his girlfriend, Pussycat Dolls singer Scherzinger.
The Hawaii-born singer was a regular at last year's races and she was the love of every cameraman's life, offering a relief from boring race cars, masked technicians, drivers photographed to death, and, of course, from old white men with bad haircuts.
Scherzinger was clearly clueless about racing, but she often responded by jumping about with enthusiasm when informed by either Ron Dennis, Martin Whitmarsh, Hamilton's dad, or a lesser McLarenite about his man's chances on track.
Said enthusiastic jumping, when combined with her slinky, silken outfits, further added to the love every cameraman felt for her, which they expressed with tender, lingering closeups. She will be missed.
At least by the cameramen.
Photo Credit: Mark Thompson/Getty Images, Ryan Pierse/Getty Image