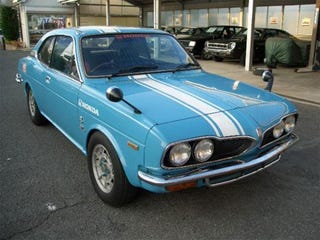 Oh yeah! By now you have met our friend Jonee and his nice collection of miniature cars. Well, as with most people that will listen, we have sang the praises of our favorite ever Honda to him. And, as Jonee routinely patrols the interwebs of Japan, he found this gorgeous baby blue 1300 Coupe 9. I mean, just check out that racing stripe! Sadly, just because he patrols Japanese classifieds, doesn't mean he can read them. So, we don't have much more info about this car. Two nice engine and interior shots after the jump.
Since Jonee's Japanese is as good as our Japanes, he wasn't sure if this car was a Coupe 9 (116 hp) or its lesser sibling, the Coupe 7 (100 hp). See those four tiny carburetors? This is definitely a Coupe 9, as Coupe 7s only had one carb. More air/fuel equals more power!
Also, a four-point harness is a pretty good indication that this beauty is the awesome Coupe 9. Man, is 200,000 a lot of Yen?
Honda 1300 Coupe 9 For Sale [Yahoo! Japan]
Related:
Craig's List Find: 1971 Citroen Safari Wagon; Jalopnik Fantasy Garage: Honda 1300 Coupe 9 [Internal]