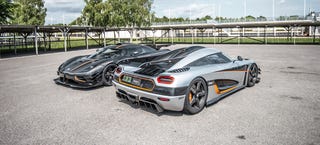 Oh this? It's just the only two 1,360 horsepower, 280 MPH, all carbon fiber Koenigsegg One:1s in existence. Why not take a walk around them? You know you want to.
Our pal and super-photog GF Williams was with us earlier this year when we got an up-close look at the One:1 at Koenigsegg's factory in Sweden. That lucky sonofabitch just got to see both completed One:1s up close at Goodwood last week, and was able to give us the first walkaround of both together.
So, here's the mutli-million dollar question: Would you rather have your One:1 in silver or bare carbon?