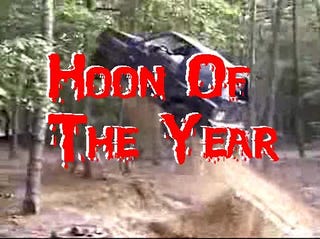 We've seen some excellent examples of the Vehicular Idiocy Captured On Film genre this year, and now it's time for us to vote on which hoon wins the coveted Jalopnik Hoon of the Year award. Jump like a Suzuki Sidekick- wait, we mean like a Chevy Sprint- and vote early and often for the hoonliest hoon of 2007! Warning: many of these videos feature language that your uptight coworkers might consider NSFW.

Sprint Jumping


Eldorado Versus Camper


Swedish Escort Service


Two-Wheeling, Qatar Style


Gnarly Gnorwegian Volvitude


Suzuki Sidekick Hang Time


Who Will Survive The Indian Well of Death?


Aussie Cop Car Hooned


Always Go All The Way With Your Smoky Burnouts


Snow King: WRXs On Ice


Bad Weld Job Gives Us Flashbacks To Donked On The Strip


Sand Dune V8 Madness


Minivan Versus Trailer


Dude, What's The Side Impact Rating On Your Truck?


Skoda Jump


Tercel's Death of a Thousand Cuts


Cah Jumping In Massachusetts


ZAZ Meets Tree


Uff Da! Minnesota Workplace Hoonage


OK, you've seen the hoonage- now let us know which one gets the dubious honor of wearing the 2007 Hoon of the Year crown!