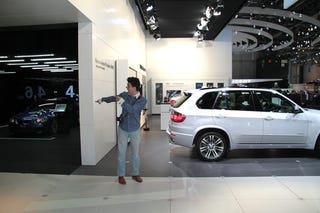 At first glance, BMW's vast stand is nothing but a sea of compulsory hybrids and Herr Reithofer giving the thumbs up. But a dark doorway beckons into M-land.
Here it is compared to the entire BMW area, a single red dot in a maze of yawn:
Get inside and it's all that matters about BMW: a single E92 M3, lit fantastically with a row of neons which accentuate the power bulge above the 4-liter V8.
As if BMW were ashamed of what they're really about, to tuck it away in a dark corner. But at an auto show where even Ferrari and Lotus and Porsche are drinking the Hybrid-Aid, it's enough to unleash the inner Crazy Euro Car Boy from your humble correspondent:
Photo Credit: Máté Petrány