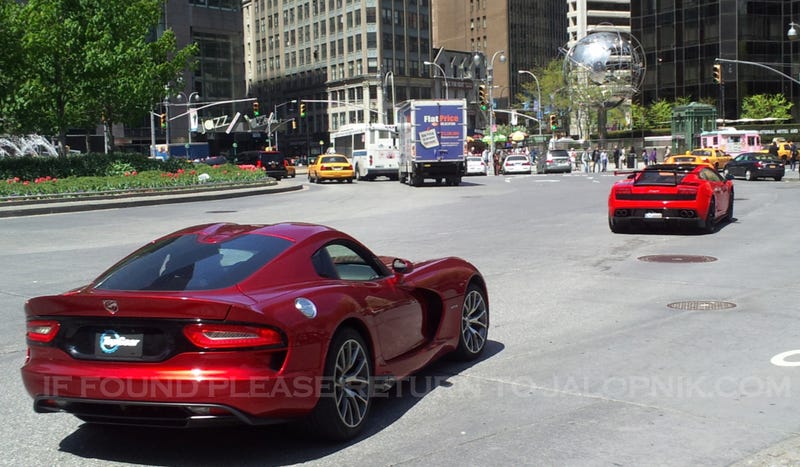 A McLaren MP4-12C, Lamborghini Gallardo Super Trofeo Stradale, and an SRT Viper GTS with plates that only say "Top Gear" on them just rolled through Columbus Circle. Where are they going? And is it really the guys from Top Gear USA?
Reader Thomas saw the trio of supercars outside of the Time Warner building, heading towards Central Park West. He says he's "80 percent sure" that it's the trio from Top Gear USA, since he thinks he saw Adam behind the wheel of the Viper.
A Viper which, I should add, looks quite similar to the car we drove from Charlotte to Austin earlier this year. If you are in the car, Adam, and you do read this, be careful, it's an animal.
Thomas suggests that they might be heading to the George Washington Bridge, but who knows where they're actually going.
We tend to think it is Adam, Rut, and Tanner because they have all tweeted that shooting for season four starts this week. Oh, and Tanner specifically showed that he was in New York.
That and the original Top Gear doesn't put fake plates on their cars before driving away.

If you see the trio anywhere in the Northeast, send some pics to tips@jalopnik.com.
(Hat Tip to Thomas!)