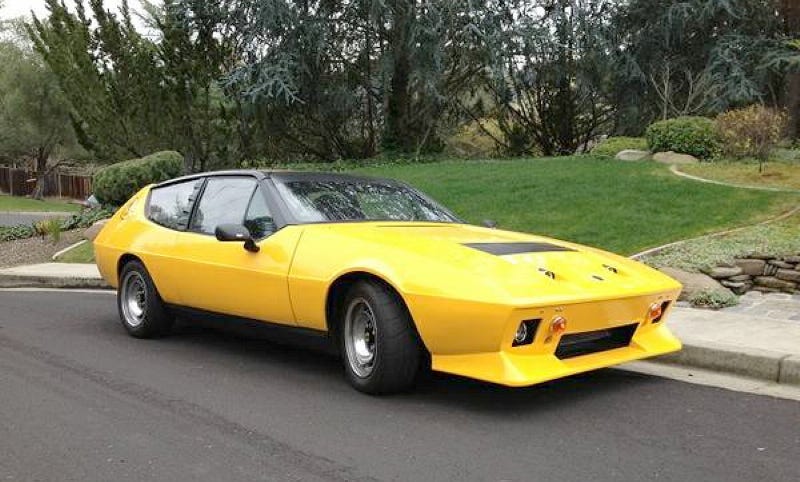 Nice Price Or Crack Pipe
Is this used car a good deal? You decide!
The Type 75 Lotus Elite is a far cry from its diminutive predecessor, but as today's Nice Price or Crack Pipe custom edition proves, there's always room for improvement. You'll still need to decide if this Elite is priced to match its name.
You know, if the Unibomber had yesterday's custom '71 Kingswood camper instead of his shitty shack, he'd still be on the run. Many of you wouldn't mind running with that wagon-based home on the road, at least for its price, as 68% of you made it a happy camper by giving it a Nice Price win.
Do you know what type of type is not mentioned in the Living Colour song Type? That's right, any type of Lotus Type. Now, you probably know Lotus cars by their proper names, Elan, Esprit, Europa, Ebola, etc., but in fact many have another name, a name that's particular and dignified, and those names are all different Types.
In the case of today's 1974 Elite, that Type is 75. Now the first Elite - or Type 14 - was a lithe and light sports car powered by a 1,216-cc Coventry Climax four, an engine late of a fire pump. It was also noteworthy for having no major metal structure in its chassis, instead using a stressed fiberglass monocoque to keep it all together now. This allowed the tiny car to maintain an amazingly light weight, tipping the scales at just over half a ton.
The Type 75 on the other hand was a whole 'nother ballgame. Intended not as a small sprats car but instead as a grand tourer, the seventies Elite married a modified version of the fiberglass monocoque concept (molded in two halves and then married together) with a backbone frame of folded and welded steel. The simple frame, shaped like a serif Y provided mounts for all the hard points like suspension (independent all around) and drivetrain. The body rides on this frame just like saddlebags on a horse, only with fewer flies.
The fiberglass body of the Type 75 was never as attractive as that of the earlier Elite, but the builder of this custom car has done what he can to dress it up. I'll leave it to you to determine if the body mods - shaved door handles and side markers, deleted bumpers and pop-up lamps replaced by squinty projectors - are on the whole a plus or a minus.
Mechanically I'd say there's no complaints, as the builder has gone down to the frame in his rebuild of the car, all the way to having it media blasted and repainted. After that it was fitted with new hardware, from the nuts to the coil-overs. From the pics in the ad, that rolling chassis was pretty enough to leave alone, and maybe even display in the living room. Still it's hard to drive naked like that.
Powering the car is the typical Lotus 907, here with a later Esprit crank bumping displacement to 2.2-litres. It's rocking Dellortos and looks just like the one in my Jensen, which it should as they're basically the same mill. Power's not the same however, as the ad claims this all-aluminium 4-valve puts out something in the neighborhood of 200 ponies. A Five-speed does gear duty.
The interior trades the Lotus twin binnacle dash for a flat panel at the windscreen base, which I guess really opens up the place. Aftermarket buckets support 4-point harnesses and sit just ahead of a substantial roll bar. The rest of the interior is bare bones and neatly routed wires, which gives off kind of a Scandinavian vibe. In the trunk, that vibe turns to fuel cell.
The Type 75 was perhaps one of Lotus' least loved products and in light of the contemporary Esprit's looks and mid-engine-i-ness it's no wonder that car lasted for decades and the Elite did not.
The builder of this car has attempted to make up for a lot of visual and performance shortcomings, and of course as is usually the case when one achieves that sort of goal, is now in the process of selling the result.
To that end, the asking price for this fly-yellow custom is $12,000. What do you think of this Type of Lotus for that type of money? Does that price make this and Elite that causes elation? Or, is this a Type 75 that's stereotypically overpriced?
You decide!
San Francisco Craigslist, or go here if the ad disappears.
Help me out with NPOCP. Click here to send a me a fixed-price tip, and remember to include your Kinja handle.