The head of Google's self-driving car unit, Waymo, said on Saturday that his company has "a lot of confidence" that its self-driving car technology would've safely handled the situation that confronted an Uber-owned autonomous car last week when it fatally struck a pedestrian.
Waymo CEO John Krafcik told a gathering at this year's National Automobile Dealers Association in Las Vegas that his company has deployed cars designed with "robust" autonomous driving systems.
"All that we can say is based on our knowledge of what we've seen so far... and our own knowledge of the robustness that we've designed into our systems... in situations like that one—in this case a pedestrian or a pedestrian with a bicycle—we have a lot of confidence that our technology would be robust and would be able to handle situations like that one," Krafcik said.
The fatal March 18 crash in Temp, Ariz., involved an Uber-owned Volvo XC90 that struck 49-year-old Elaine Herzberg as it was traveling in autonomous mode. Herzberg had been walking outside of a designated crosswalk at the time of the crash, but video released of the incident has raised significant questions about the safety of autonomous driving technology, and how companies train their safety operators to test the vehicles in their infancy. The video shows Herzberg coming into frame at least two seconds before the collision, and the car doesn't appear to slow down.
G/O Media may get a commission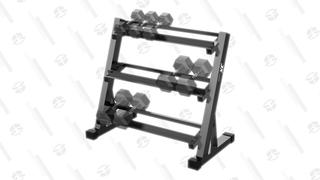 20% Off
JX Fitness Dumbbell Rack
Gains but tidy
Has a three-tier design to help store more weights more conveniently, can safely support up to 1000lbs of weight, which should be enough for most people, has a triangle base for stability, and also features anti-scratch feet which is great if you've built your own studio or workout in your garage.
It's a situation that experts believe should've been detected by Uber's suite of self-driving technology.
And Krafcik believes Waymo, which has tested self-driving cars since 2009 and has racked up five million test miles on public roads, is well-prepared to handle this kind of situaiton .
"It struck us, I think, in a very, very, very major way," he said at the auto dealers' conference. "The company was founded on the principles of safety and mobility and access for all and we've dedicated ourselves to making this technology safe."
The remarks are sure to sting autonomous driving engineers at Uber, which spent the better part of a year fighting Waymo in court over allegations that it used stolen records to bolster its own self-driving car program. Uber settled the case during trial last month for $245 million. Waymo also launched a pilot program in the Phoenix area last fall that involved fully-driverless cars, ahead of plans to launch a commercial service later this year that would directly compete with Uber.
Uber, meanwhile, has offered little beyond a brief statement on the crash, as federal regulators and local police investigate what went wrong. The company grounded its self-driving car tests in the interim.