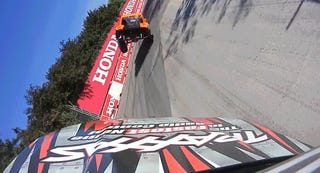 Robby Gordon and Sheldon Creed are basically showing you what Stadium Super Trucks is all about right here; insane driving talent plus hilarious antics. I could watch this all day.
This clip comes from the Stadium Super Trucks race just a few days ago at the Honda Indy Toronto event. Actual racing laps generally aren't taken on two wheels, but of course Gordon and Creed are great showmen as much as competitors. Especially on a jump-filled SST course.
If you're not following this batty freakshow of a racing series yet, what the heck is wrong with you?
Image via Stadium Super Trucks Facebook page
---
Contact the author at andrew@jalopnik.com.