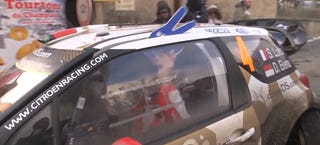 You don't become a nine-time world rally champion by letting other people do all the work for you. Even when, you know, you shatter your suspension.
This is Sébastien Loeb and codriver Daniel Elena fixing their Citroën on the Monte today after a slight off with ratchet straps.
What's funny is how often you see rally teams fixing their broken cars with ratchet straps. It's just great to see the winningest rally driver in history holding his shit together like the time your buddy reattached the engine in his Volvo 240 when the engine mounts busted.