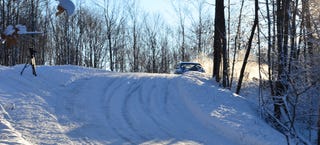 What happens when you hand a rally driver a new race car? They send it sideways over the first yump available.
This is reigning Rally America champ David Higgins testing his new 2015 WRX STI earlier today at Team O'Neil Rally School on the far side of the White Mountains in New Hampshire.
Ugh, just look at how that front driver's site studded tire clears the inside snow bank. I may be in love.
Jalopnik's own Travis Okulski rode in this very car. I think he's still grinning.
Here are the shots that make the above .gif in high-res. All credits go to O'Neil's inimitable Wyatt Knox, an American rally champion himself in two-wheel drive.
Photo Credits: Wyatt Knox