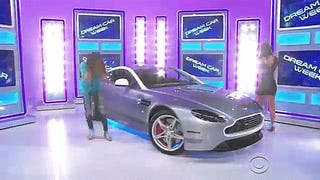 When I go on a game show like The Price Is Right, I'd really prefer to walk away with a very fast six-figure sports car instead of some horrible dining room set. Thank god there's Dream Car Week, and it kicked off today with one woman locking down a 2016 Aston Martin V8 Vantage GT Coupe.
Naturally, she's very happy about this outcome.
The winner is Bay Area wedding photographer and mom Francesca Penko, and she'll be rolling up to her wedding gigs in a silver Aston Martin worthy of 007 himself—complete with a six-speed manual.
Total price? $120,265. During the "Spelling Bee," Francesca got the chance to choose between $25,000 in cash and the Aston Martin. She didn't hesitate to pick the car. Our kinda gal. And it paid off bigtime!
The other cars up for grabs this week are a Mercedes 550 4Matic Coupe, a Tesla Model S, a Porsche Panamera, a Maserati Quattroporte, and a BMW 320i available on a Big Wheel spin.
---
Contact the author at patrick@jalopnik.com.