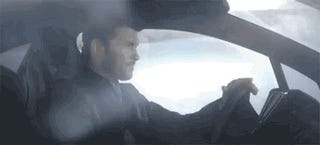 Remember Peugeot's brilliant 205 GTI commercial from 1986? Of course you do! And now that there's a new GTI, here comes the new ad that puts James Bond to shame with more rockets and more Apache action. Plus the new GTI.
The Peugeot 208 GTI might not be the most hardcore hot hatch out there today, but its 200 horsepower turbocharged 1.6-liter four banger certainly won't let you down if you're after a bit of fun on the road. The 30th anniversary version celebrating Gérard Pirès' classic GTI movie also sports an awesome two-tone paint job, and can do all this:
As long as you don't try it at home.