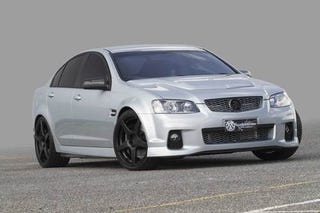 Austrailia's Walksinshaw Performance continues to tease use with super Holden Commodores, this time debuting the 617-hp ultimate Series II Supercar. She's a brick house. She's letting it all hang out.
Walkinshaw will build just 23 examples of the Series II Supercar — commemorating the company's first "Walky" 23 years ago — all finished in Panorama Silver. But who cares what it looks like? The real story here is mighty mighty power.
The already potent 6.0-liter Holden V8 from the Series II SS gets upgraded with an Edelbrock supercharger putting down 617 horsepower and 575-lb-ft of torque through a Borg Warner BT5G five-speed manual transmission. A fully-loaded version comes in at around $115,000, but when the apocalypse comes you're going to be happy you spent that money.
Just make sure to buy a few oil drums and a lot of ammo.