A new report from a Texas dealer claims that former Volkswagen USA CEO Michael Horn clashed with VW management over the handling of the Dieselgate scandal in North America and was forced out, despite popularity among dealers.

As we reported just yesterday, VW's U.S. CEO left Volkswagen through a "mutual agreement" despite being one of the few company executives to survive the Dieselgate scandal initially, believed to be the virtue of the popularity and support from North American dealers. Now those dealers are furious at Horn's departure from the automaker he devoted 26 years of his life towards, and one Texas dealer has stepped forward claiming Horn was forced out after clashes with German management.
Texas Volkswagen dealer Alan Brown, who is head of VW's National Dealer Advisory Council in the U.S., has claimed that Herbert Diess, chairman of the Volkswagen automotive company, listened to dealers and kept Horn with the company, but added a new North American position overseeing Horn's U.S. role and intended to move Horn to a new position, via the Associated Press. Brown claims Horn didn't agree with this strategy and instead decided to leave the company after being the face of Dieselgate in America for over six months.
G/O Media may get a commission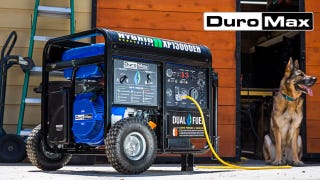 Black Friday Sale
DuroMax Generator Sale
Brown also claims that VW management didn't agree with Horn over his plan of offering the $1,000 gift card goodwill program to over 600,000 U.S. owners of the brand's affected diesel vehicles, resulting in damaging clashes that led to Horn's departure.
It is also claimed that VW management clashed with Horn over the brand's American lineup, with the U.S. CEO wanting more SUVs and vehicles he felt were suited for the American market which management wouldn't agree with. Brown claims that Horn would "go unplugged" after such clashes.
In the months following the revelation that over 11 million diesel Volkswagen vehicles around the world used software and defeat-devices to cheat emissions standards, Michael Horn was one of the few executives at VW to keep his job thanks to an outcry of support from U.S. dealers. Horn oversaw the development and execution of the goodwill voucher program in the U.S., testified to Congress on behalf of Volkswagen over the scandal, and apologized time and time again, becoming notable for his brutal honesty.
Since the announcement of Horn's departure there has been an outcry from U.S. dealers who appreciated the CEO's honesty and ability to "repair fractured relations with dealers," according to AP.
Brown stated that Volkswagen's American dealer network is now "hanging by a thread," and will meet with the company's executives in Germany as head of VW's National Dealer Advisory Council next week.
Meanwhile, the automaker faces a March 24 deadline to come up with a solution to reverse the effects of its cheating software on 600,000 affected U.S. models, as well as lawsuits, fines and a Justice Department investigation.
---
Contact the author at justin@jalopnik.com or @WestbrookTweets.