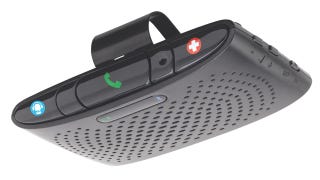 Verizon is following the lead of companies like Automatic, Dash, and Zubie, tapping into your car to provide health reports and diagnostic info. But Verizon Vehicle takes it a step further with vehicle tracking, emergency services, and even a Bluetooth speaker, making it an OnStar retrofit for your old ride.
Up until recently, Verizon was supplying the data to run GM's OnStar system. That ended last year and now Verizon is getting in on the dongle party with its first independent foray into the world of telematics.
Verizon Vehicle comes in two parts: an OBDII dongle that plugs into your car and a Bluetooth speaker with buttons for calls, diagnostics, and emergencies.
For 15 bucks a month ($13 for each additional car), the service includes roadside assistance, vehicle tracking, and one-button SOS. And by tapping into the car's diagnostic port, it can also keep track of check engine lights and explain them in plain English, alert drivers of when services are due, and provide a direct line to an A.S.E.-certified mechanic.
Verizon will start shipping the device this April. The hardware – worth $120 – is free, but only when you sign up for a two-year contract, natch.