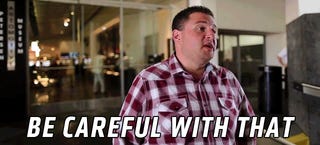 Valets are supposed to take good care of your car. That's not a thing that happens a lot of the time. But if the valet is a pro drifter, it'd be a crime against the gymkhana gods if you didn't give your car to him.
Here we have a Roush Mustang with pro drifter Justin Pawlak behind the wheel. For those of you from Los Angeles, this parking garage might look familiar since it's the Petersen Museum's parking deck.
There are definitely some "oh shit" and "oh no he did not" moments here, as well as some seriously quality drifting. If you can do this with a car, you can valet my car anytime. Just please don't hit a concrete pylon. Please.