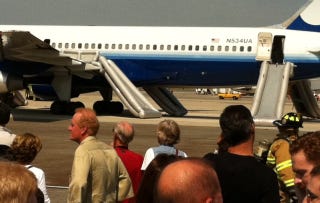 A few minutes ago there was a very scary scene at Washington's Dulles Airport. While sitting on the runway, United Airlines flight 586 had some kind of electrical fire and possible fuel leak. The result? A very scary forced evacuation of all passengers by the professional and quick-thinking crew.
The only account of the incident so far comes from Jodi Gersh, Gannett's director of social media. She tells us that the flight, United Airlines 586, was supposed to be flying out of Dulles at 12:25 PM EST with a final destination of San Francisco. Somehow I don't think that's happening anytime soon.
Read her twitter feed for more.