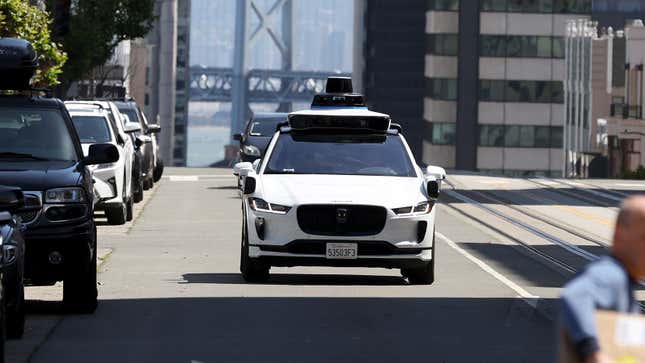 Despite the objections of city leaders and a good portion of commuters, San Francisco has become ground zero for driverless taxi deployment and field testing. On Sunday, San Francisco also had a Pride Parade and the Giants played some baseball, which happens almost every day. Two Waymo robotaxis didn't seem to know how to manage the resulting traffic and responded by stopping dead in the middle of intersections.

The incidents were covered in an ABC7 Bay Area segment on Monday evening, showing scenes of the inaction. They come at a crucial time, as Waymo and Cruise stalls have rapidly increased since the early months of this year, and the San Francisco Municipal Transportation Agency has been begging the California Public Utilities Commission for months to scale back and slow down the companies' rollouts. The CPUC will vote on the issue Thursday.
The two Waymo vehicles in question blocked intersections at 2nd and Howard and 3rd and Howard on Sunday afternoon following the parade. According to SFMTA, reported occurrences of both firms' cars getting themselves into trouble tripled in March and April compared to January and February. That's worked out to be about a call a day, as San Francisco Fire Chief Jeanine Nicholson told the ABC affiliate:
Last week San Francisco Fire Chief Jeanine Nicholson described the problems the department is having with the self-driving vehicles. She said they are getting at least one call a day about the vehicles stalling out or driving where they aren't supposed to go.


"They have driven into shooting scenes and fire scenes and just been a menace in so many ways to the San Francisco Fire Department, our trucks, and ambulances," said Chief Nicholson. [...]

"We've really gotten lucky so far but it's only a matter of time before something really, really catastrophic happens," said Nicholson.
SFMTA sent a statement to ABC7 Bay Area on Sunday, breaking down the issues at hand. The agency said that Waymo and Cruise's vehicles have interfered with emergency responses; impacted transit operations; entered active construction sites and crime scenes, even those cordoned off; and become tangled in power lines. It referred to data that the injury collision rate of Cruise's cars in particular was six times higher between June and November of last year compared to the 2021 national average for human drivers.
Summer 2022 was right about when the General Motors subsidiary began accepting fares in the city, and an anonymous whistleblower inside the company wrote the CPUC, explaining that employees generally didn't think Cruise was ready for public launch, but "fear of admitting this because of expectations from leadership and investors" forced them to press on.
SFMTA has a few conditions it's petitioning CPUC for. Primarily, the agency wants robotaxis out of downtown entirely, and only to run in designated areas during what it considers "off-peak" hours — outside 7 to 10 a.m. and 4 to 7 p.m. Waymo and Cruise have also requested data confidentiality in their prior approval bids, a practice SFMTA stresses must not continue.
"We are currently waiting for this coming Thursday, June 29 for the decision and truly hope that automated driving can significantly improve safety and provide other benefits to those who travel in San Francisco," SFMTA's statement reads. "We are excited about this possibility, however, we are not there yet. This technology is still in development and is simply not ready to operate 24/7 in the city."