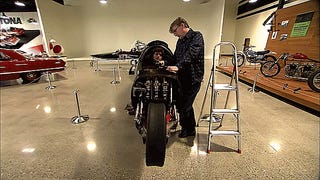 AutoEvolution reports that motorcycle racing legend Guy Martin will pilot their Rocket III Streamliner at the Bonneville Salt Flats, an insane carbon-kevlar racer with two turbo engines making over 1,000 hp, a miniscule cockpit and hand controls made for an airplane.
Here's a behind-the-scenes look at the new racer, which looks like an airplane itself, sans the wings.
Guy Martin claimed that he was done with the Isle of Man TT after this year, but it's obvious that he can't stay away from speed. According to AutoEvolution, the Triumph team aims not only to to break the standing two-wheeled land speed record of 376.363 mph on the Bonneville Salt Flats, but to break 400 mph.

Two turbocharged 2.3-liter Rocket III engines propel the Streamliner, which is made of lightweight carbon-kevlar.

Is this aerodynamic, light and wacky enough to break the record? We'll find out this August.

---
Contact the author at stef.schrader@jalopnik.com.