The Toyota Crown is Japan's evergreen domestic luxury car and it has been as boring and conservative as you'd expect. It's like the Japanese Cadillac XTS. Now, though, there's something about the new generation car that tickles my enthusiast ball sack, and I think I know what it is.
It's not Jean Reno, star of the coolest movies of the past twenty-odd years, co-starring in its ads. It's not the double lightning bolt/pseudo Predator grill. It's not the rear-wheel-drive chassis or the 311 throbbing horsepower available with the top-of-the-line 3.5 liter V6.
It's pink.
Sometimes something as simple as pouring a vat of Pepto-Bismol over the most staid old man's car in the world is all it takes to achieve brilliance. I would call this new Crown a stroke of genius and a paragon of Japanese automotive strangeness, like when Mazda named its large passenger van the "Bongo Friendee" or when the '70s Toyota Crown came with Geordi La Forge's visor stuck onto its front end.
G/O Media may get a commission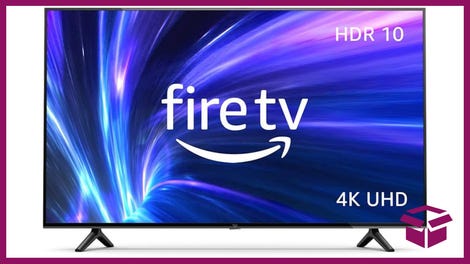 42% Off
Amazon Fire TV 50" 4K Smart TV
I don't care that the car will be soporific to drive. I don't care that I would look like a Fast and the Furious wannabee behind the wheel. I want one and I want one bad. Just look at it!
I'm not sure I'm prepared to call the pink Crown (in special 'Athelete' spec) the coolest car Toyota makes, but I'd like to do a side-by-side test with one of the Toyobaru Twins to decide.
Photo Credit: Toyota