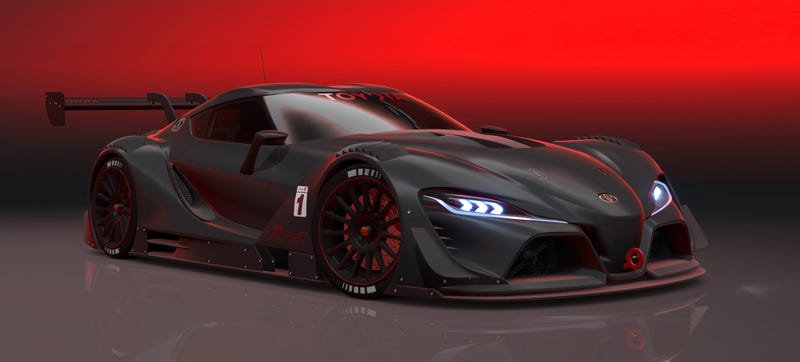 The Toyota FT-1 wasn't a real car, in the sense that it was it just a concept and a design study. And this version of the FT-1 is even less real because it's for Gran Turismo 6. I don't care. I want to believe.
After all, Toyota has danced around the fact that the FT-1 could preview the next Supra in some way. If it does, this virtual car could preview what it would look like when suited up for racing.
I know it's kind of a stretch, but like I said, I want to believe.
The Toyota FT-1 Vision GT Concept debuted as downloadable content for GT6 yesterday. It's the meanest version of the exciting sports car concept Toyota dropped at the Detroit Auto Show earlier this year, a car many of us have been yearning to become real.
There's still no word from Toyota on whether this car could see production or not, and still no official word on the sports car they're supposedly building with BMW. But I kind of hope it all shakes out like this. We could do a lot worse.