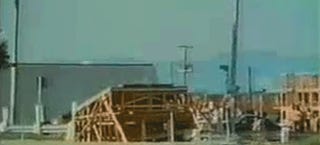 HOW HAVE I NEVER SEEN THIS BEFORE?!
I've seen a lot of car jumps in my years working at Jalopnik. The rocket-powered Snake River jump and Pearn in his Suzuki stand out as the best, but somehow, this one escaped me.
Shot for the 1978 Japanese movie 'Mach 78,' aka Daredevil Drivers. Here's a clip of more ridiculous stunts from the flick.
And here is the English trailer, with the excellent sub-taglines 'a deadly challenge for adventure & destruction' and 'super cars at war in breath-taking sequences.' It appears to be some kind of national Japan vs US stunt battle.
The one I'm focusing on in particular is a Porsche 911 launching a claimed 158 meters (518 feet) into the ocean. The driver was Akira Kurosu, but sadly I don't have any other info other than one YouTube description claiming the jump as some kind of world record.
If you have any more info on this mind-blowing jump, let me know.