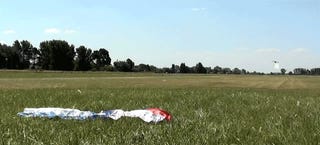 Didn't we already say that Argentinians were the kings of low flybys? This is just excessive.
According to this LiveLeak post, this is Cesar Falistocco, Captain of Argentina Aerobatic Squadron as he raises Argentina and Chile's flags with the wingtip of his plane skimming the grass.
If he'd been any lower to the ground, we'd call it a crash.