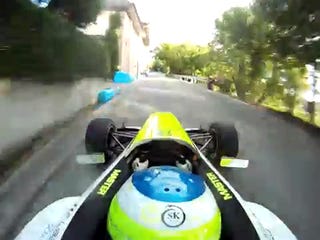 No, this video hasn't been artificially sped up — it really is that fast.
Cut ahead to 3:35 in this video and you'll be watching Federico Liber putting down the winning run of the 2013 Cividale Castelmonte hillclimb in Northern Italy. He's driving a tube-framed, motorcycle-engined Gloria C8F, which runs about 45,000 Euros minus VAT, as this LiveLeak poster points out.
If you've ever wondered what your favorite country outing would look like at warp drive, if you've ever wanted your conception of speed revised, if you've ever wondered what hyperdrive must feel like, this video should answer your questions.
I should also point out that the guy has Lupin III on his helmet. Of course he was going to win.