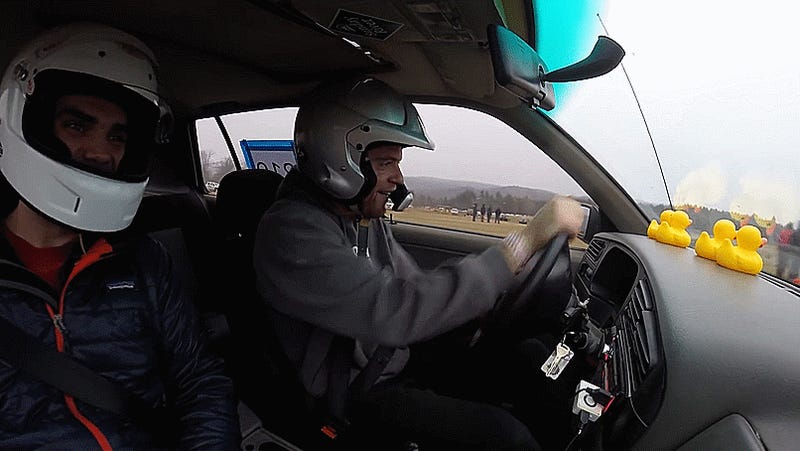 Trying to keep anything on your dashboard during a rowdy, bumpy rallycross run is all but impossible. When you're trying to keep your ducks all in a row on top of your dashboard, I can't help but to laugh. This is brilliant.

Ryan Symancek took a line of rubber duckies along for the ride in his 1998 Volkswagen Golf during the Northeast Region SCCA's Wolf Chase Rallycross. I'm actually impressed with how long they stayed on the dash. The driving duo then wedged the ducks in the dashboard to secure them when Chris Bradbury went for a run in the car.
Unfortunately, Bradbury popped a tire, as ducks clearly don't like to be held down by a pesky windshield.

Between this popped tire and World Rally Championship driver Ott Tänak's terrifying crash into a lake when his handbrake-mounted onboard duckie returned to the water, I'm going to say that restraining a duck in your dirt-flinging funmobile is a bad idea. The ducks must be allowed to roam free, like happy ducks—and preferably not roaming into your pedal box.

Ducks are just bad luck. May I recommend a Rally Chicken?