These are the ten cars that keep Jalopnik readers up at night with giddy anticipation.
---
10.) SRT Dart
Ok before all of cry out for a Hellcat Dart let me just say, it's not happening. What we will see will be a turbocharged AWD WRX fighter that will debut at the end of 2016. I'll be happy if they borrow the exhaust from the wacky 500 Abarth.
Suggested By: Susan, Photo Credit: Dodge
---
9.) Ford Focus RS
G/O Media may get a commission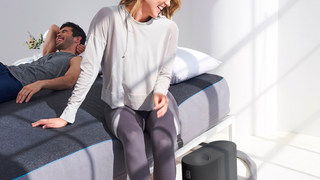 Eight Sleep Pod Cover
Rumor has it that the Focus RS could be making an appearance in the US for the first time ever and it will pack the fancy 2.3 liter EcoBoost from the 2015 Mustang. That four cylinder should be good to send more than 300 hp to the front wheels, making it the finest choice for insane people.
Suggested By: typhoon5000, Photo Credit: Falk Lademann
---
8.) RWD Alfa Romeo Sedan
Alfa Romeo hasn't made a RWD sedan since 1992 which means they are long overdue for a new one. Thankfully, the skunkworks team at Alfa is developing a lineup of exclusively RWD and AWD cars in an effort to recapture the magic of Alfa Romeo. Godspeed, skunkworks team.
Suggested By: Autojunkie, Photo Credit: Alfa Romeo (Gloria Concept Pictured)
---
7.) Next-Gen Chevrolet Camaro
The new Camaro Z/28 shows us that the Camaro, even in its portly form, has a lot of performance potential. When the Camaro switches to the Alpha platform (which underpins the brilliant Cadillac ATS and CTS) it should be a bit of a revelation.
Suggested By: Travis - King of Spun Bearings, Photo Credit: Chevrolet
---
6.) BMW M2
The BMW 1-Series M Coupe was one of the most highly acclaimed models of 2011, but just 740 were brought over to the US. If that car is any indication its successor, the M2, should be a hoot.
Suggested By: SennaMP4, Photo Credit: Nan Palmero
---
5.) Shelby GT350
Our man Damon Lavrinc drove the 2015 Mustang GT and said that it was good, but probably not a game changer. The GT350 will probably change all of that, if all their Nurburgring testing is any indication. I'll have mine in white with blue stripes.
Suggested By: daender, Photo Credit: Alden Jewell
---
4.) Volvo V90
Volvo dropped the mic when they unveiled this sexy brown station wagon. Lets hope that they preserve the concept's gorgeous lines when they put the wagon version of the new XC90 in production.
Suggested By: TommyK154, Photo Credit: Volvo
---
3.) Mercedes-AMG GT
I would not want to be Porsche right now – for years their 911 has remained on top, but recently its had to face some steep competition in the brilliant C7 Corvette Stingray, the sexy Jaguar F-Type, and now this, the Mercedes-AMG GT.
The GT has a winning combination of stunning good looks and a 4.o liter twin-turbo V8 that's good for 503 horsepower in the S model. Porsche better be on their A-game.
Suggested By: Vin, Photo Credit: Mercedes-Benz
---
2.) Cadillac CT6
Silly name aside, the new big Caddy should be a wonderful return to form for the marque. The ATS and CTS are great and their Elmiraj concept is stunning. Who knows? The could become the "standard of the world" once again.
Suggested By: Mike Librizzi, Photo Credit: Cadillac
---
1.) 2016 Mazda Miata
This is Jalopnik. Of course we're absolutely ecstatic over the new Miata! We already know it's gorgeous, and it should be lightweight, fuel efficient and fun as all Miatas should be. Plus, we could see a potential Fiat/Abarth/Alfa Romeo version which would be icing on the cake!
Suggested By: JGarflield02, Photo Credit: Mazda
Welcome back to Answers of the Day - our daily Jalopnik feature where we take the best ten responses from the previous day's Question of the Day and shine it up to show off. It's by you and for you, the Jalopnik readers. Enjoy!
Top Photo Credit: Volvo