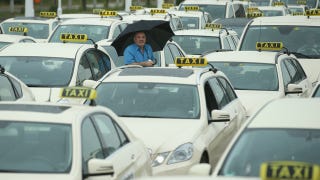 Daimler is officially in the app acquisition business. Today, it's picked up two companies, one that deals in multi-modal transportation and another that's the taxi-hailing equivalent of Uber. Considering how many cabs Mercedes sells, that's smart.
MyTaxi, which launched in Europe in 2009 and came to the U.S. two years ago, works exactly like you'd expect. Press a button, request a cab, track how long it'll take to arrive, and then pay through the app – just like Uber. It's one of many apps that are attempting to bring taxis into the 21st century (kicking and screaming), and with Daimler buying it outright (it already had a 15 percent stake) it's the latest piece in Daimler's evolution from automaker into something broader.
Volkswagen, BMW, Ford, and others have all used some variation of the term "mobility provider" when describing where each fits into the future. Acquisitions like these are part of that trend, but most are more bet-hedging than long-term business planning. (The other app Daimler bought is RideScout, basically a one-stop-shop/aggregator of all the different ways you can get around.)
In the case of Daimler, Moovel (its mobility services company that made the acquisition), and MyTaxi, it's a way for the automaker to get in on the on-demand car service bandwagon, without backing – and thus, alienating – the hundreds of taxi companies that it depends on for tens of thousands of fleet sales every year. By staking a claim as the middleman between cabbies and fares, it's obvious where Daimler's loyalty lies. And it comes at just the right time: Uber was just banned in Daimler's home market.