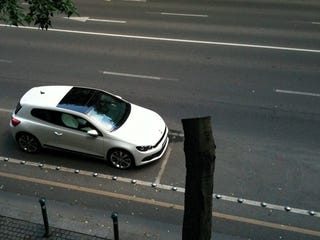 Aided by a vantage point made possible by the balcony of our European office, we discover that the VW Scirocco is a rather desirable coupe.
Yes, it's just a Golf with added styling flair, but it's cool—well, as cool as a new car can get. It would probably stick out in America for a number of reasons, but here in Europe, it's a pretty common car. You don't usually turn your head around for it.
Photographed from above with a mobile telephone, this Awesomeweiß example reminds us how excellent its lines are. It's still a Volkswagen, but it's a funky Volkswagen.
Now: Shall we petition VW CEO Martin Winterkorn to make it available in America? Or would that be too obvious?