Well here's something totally and definitely unexpected: oil prices are forecasted to rise this year. Nobody saw that one coming. No one. Uh uh. Not a single person. Ever.

Oil is expected to rise by $10 a barrel in 2017, according to analysts at Citigroup, reports CNBC. In a note published earlier this week, the analysts said that
"With a continuation of the OPEC/non-OPEC producer deal in the second half of 2017 and the expected associated inventory draw-down, we expect oil prices to move above $60 a barrel by the second half of the year."
The CNBC story notes that OPEC agreed to remove a supply glut by slashing 1.2 million barrels per day from January to June. Russia, including eleven other non-OPEC countries, agreed to limit supply as well.
Recall everything we just saw at the New York Auto Show. The gas-burning Dodge Demon and SUVs and crossovers that extended as far as the eye could see. Countless automakers are either ramping up SUV and crossover production or introducing new, large-sized models. Because that's what people are into buying right now.
G/O Media may get a commission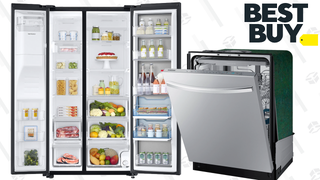 Up to 50% off
Best Buy - Samsung Major Appliance Sale
If you need further proof, just look at the rise and fall of Prius sales. Terrible now, amazing in 2009, 2010 and 2011. In 2011, The New York Times reported that used fuel-efficient cars actually turned a profit because demand was so high.
Things don't look good for FCA in particular. The company recently killed off two mid-sized sedans—the Chrysler 200 and the Dodge Dart—and seem to be focusing on selling large trucks and SUVs.

In January of last year, FCA CEO Sergio Marchionne said that the company would slow Alfa Romeo's reinvention and expand Jeep, truck, crossover and SUV lineups. He has also made clear that he won't invest in expensive, alternative technologies if there are cheaper ways to comply (like buying regulatory credits.)
All of a sudden those EVs can't seem come soon enough.