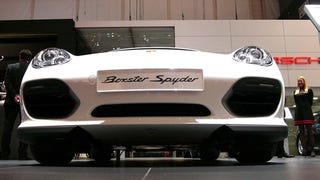 Nobody does iterations like Porsche. A simple, lightweight take on the Boxster with a camping tent on top is love at first sight yet again.
One day the placid design studios buried beneath Porsche headquarters will be brought to light, grottos where designers whittle away on blocks of clay one cubic milliliter at a time. Playing with curves and colors, finally settling on a fine array of humps, and a classic red, white and black, derived from a car which will turn twenty in a few years.
[gallery 5484443]
It's hard to get excited about Porsches but it's equally hard not to find a particular iteration that pierces the heart. Enjoy this Boxster Spyder with the fiddly canvas top and get ready for a second day of the Geneva Motor Show.