Consumer Repors verified our initial negative reaction, refusing to recommend the 2012 Honda Civic. But there's one missing caveat: everyone means the U.S.-Spec Honda Civic. The European-Spec Civic is something many can get behind.
The world of Civic is in a bit of flux at this moment. In Japan, the Civic was dropped for the Fit. In America it's been on a steady decline relative to the competition. But in good old Europe — where the history comes from — they've always had a vastly superior Civic.
As we discovered when we first tested the Euro Civic, that other Civic is everything the American version isn't: stylish, exciting, and diesel. Yep, that little diesel engine netted us 72.4 mpg while hypermiling.
G/O Media may get a commission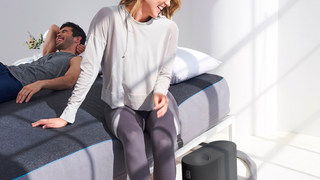 Eight Sleep Pod Cover
The same turbodiesel mill still does the work in the redesigned Civic (seen here in camo), pumping out 148 hp and 258 lb-ft of torque yet still producing a Civic Hybrid-embarrassing 57 mpg.
Oh, and it probably won't look like a watered-down version of its previous generation.