High production value, groovy soundtrack, and insane footage of some incredibly cool vehicles makes this my favorite desert racing clip right now. Reckon it's good enough to forgive organizers for naming another race after a place it doesn't go to?
The 2014 Libya Rally is raging right now until April 24 1,500 miles away from Libya, in Morocco.
The inaugural edition of the event was run in Libya in 2008, after which war and government instability added too many dangerous variables and the race was run in Tunisia. In 2013 the race was moved to Morocco, where it's going down again this year.
The 2014 edition of the race crosses the Atlas mountains twice, rips over dunes of the Sahara and ends with a leg that's almost entirely on the West African beach. It sounds like a hell of a venue, and the field of competitors is equally impressive. Motorcycles, quads, and a very diverse assortment of cars and trucks makes the Libya Rally a cool event to know about, even if it stubbornly sticks to an obsolete name.
G/O Media may get a commission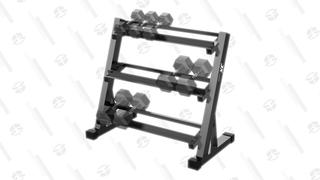 20% Off
JX Fitness Dumbbell Rack
Gains but tidy
Has a three-tier design to help store more weights more conveniently, can safely support up to 1000lbs of weight, which should be enough for most people, has a triangle base for stability, and also features anti-scratch feet which is great if you've built your own studio or workout in your garage.
That said, I can't believe they couldn't make a Moroccan locale work as the headline. The Libya Rally only started six years ago, it's not like it has decades of history to connect with like the Dakar does. And the race runs through so many places with fantastically lyrical names like Fez, Merzouga, and Icht. I for one would love a t-shirt with any of those on it.
You can keep up with official rankings right here on Kronotek and track all the racers right here on Owaka.
We'll get some great images and video up after the final checkered flag drops!