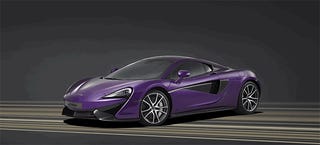 Although Jared Leto will drive an Infiniti in drag as the Clown Prince of Crime in Suicide Squad, the producers should have called McLaren Special Operations before choosing that Vaydor body kit. I think this insanely purple 570C suits him better.
McLaren will bring a whole fleet of special cars to America's famous Concours d'Elegance, including two MSO 570S Coupés, one of the already sold out 500 675LT Coupés, one of the 50 650S Le Mans Coupés, the orange 1998 McLaren F1 LM (chassis #073) actioned by RM as part of the Pinnacle Portfolio and the #17R McLaren F1 GTR on loan from BMW North America.
RM's stage will also host a P1, and if you walk around enough, you shall also step into this beauty:
As for the two MSO 570S Coupés, one happens to be finished in Ventura Orange and fitted with a selection of styling details while the other car is Mauvine Blue with a Carbon Black leather according to the folks at MSO.
Looks pretty purple to me.
I would commit crimes driving this.
Photo credit: McLaren
---
Contact the author at mate@jalopnik.com.