The Indianapolis Motor Speedway is the most legendary race course in the United States of America. And since 1945, it has been owned by the Hulman-George family. If rumors are to be believed, that could soon be coming to an end.
Now, before I get into this, I should say that rumors that IMS is for sale seem to come up every single year. And every single year, they deny it's for sale and the Speedway stays with the Hulman-George family.
They've done that this year too.
I called Doug Boles at IMS to get a comment, but he hasn't called me back quite yet (UPDATE: Mr. Boles responded, IMS isn't for sale). He did issue a denial to the AP's Jenna Fryer though: 
That's totally contrary to a report that surfaced today on the blog Advance Indiana, which says that they have confirmed that IMS is for sale and a group of outside investors, including former IMS President and CEO Tony George, are getting set to buy the company.
G/O Media may get a commission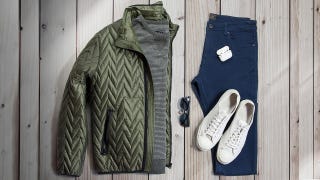 60% off
Jachs NY Fall Sale 60% Off
IMS has been ferociously private ever since the Hulman-George family took over the Speedway in the 1940s. They have taken basically no public money. In the last few months, Hulman and Co. (IMS' parent company) took on a new CEO in Mark Miles, who was also the chair of Indiana's Super Bowl. They also just lost longtime Senior VP of Operations Mel Harder to the Circuit of the Americas. Jeff Belskus, IMS' CEO, has been given a slightly different roll in running IndyCar and IMS at the same time. So there have been changes at the top.
Just recently, a bill was approved in the Indiana state senate that would designate the Speedway and its related properties a "motorsports development district." IMS never really appears in legislation, so this is curious in itself.
The bill basically means that the folks at 16th and Georgetown (that's IMS' address) would get a $100 million windfall to the tune of $5 million a year for 20 years to finance improvements to the Speedway.
According to Advance Indiana, IMS was working behind closed doors with Indiana legislators in order to get this $100 million package passed, which would then enhance IMS' value to a potential buyer.
Here's the view from Advance Indiana:
Essentially, Indiana taxpayers are being taken for a ride as part of a deal to provide Hulman-George family members with a sweetheart buyout deal of the IMS financed on the backs of taxpayers. The $100 million cash infusion ensures the buyout group led by Tony George that it will have free money to remake the IMS in their own vision. The rich get richer, and the poor get poorer.
The list of potential buyers is allegedly headed up by Tony George, the former CEO of the Speedway who was ousted from all positions within the company over the last few years. George announced the Indy Racing League in 1994, which created "the split" in American open wheel racing. He also spent his family's fortune on the IRL, which never made a profit, as well as another $150 million bringing Formula One to the USA.
After his ouster, George kept trying to make roads back into the Speedway. Just last year, he tried to buy the IRL, now called INDYCAR, with a group of investors that also included the CEO of Zionsville, IN based motorsports marketing company Just Marketing Zak Brown (not the singer). It didn't happen.
Interestingly, there has been much talk about Zak Brown being named the new CEO of INDYCAR. He reportedly spent most of his day today at their offices.
George seems to be the most likely buyer for if the Speedway is actually for sale since he has such an emotional connection to it, but another could be International Speedway Corporation.
ISC is owned by the France family. The France family also owns NASCAR and Grand Am. They already own some of the greatest tracks in the nation, like Daytona, Talladega, and Watkins Glen.
I had always heard back in the day, and believe me, this is a rumor, that the France's had encouraged Tony George to start the IRL and make his own series. Right after the IRL started, NASCAR's popularity shot through the roof.
Curious.
Whether this is a rumor or not (it probably is), IMS is a valuable property and the Indy 500 is still the largest single day sporting event in the world. It would be a great buy for anyone, if it's for sale.
UPDATE: I spoke to Doug Boles at IMS, and he said that IMS is not for sale and there have been no conversations about it being for sale at any level, especially the board level. It was also emphatic. I bet he's tired of these rumors every year.