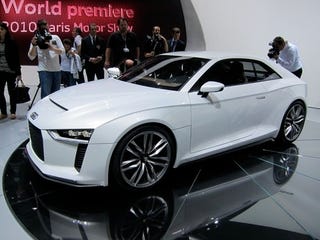 A modern take on the ur-Quattro that weighs as little as the original and is powered by a turbocharged inline-five for a 3.8 second 0-60 time? Of course they're not going to make it. Look upon it and despair.
[gallery 5652021]To make the new Audi Quattro Concept, which celebrates the 30th bday of Ingolstadt's rally racing, Audi took one RS5, chopped a huge chunk out of its wheelbase, ditched the V8 for the 2.5-liter, 408 HP aforementioned five-cylinder then dressed the whole thing up like a crosse between the Audi e-Tron and Jason Statham.
That original 1980 Audi Quattro weighed in under 3,000lbs and word is this concept does too, although that should also be a good indicator of how production unrealistic this thing is. Everyone knows its a law in Germany that all new cars must weigh at least 5,000lbs in order to be exported to America.
So what should you take away from this? The Quattro is the latest Audi concept to preview a less elegant, more aggressive and geometric take on the brand's current design language. Expect to see slightly more pissed-off A4s and whatnot in the near future.